India
'Hindu Rashtra' banners appear ahead of Ram Navami in Khargone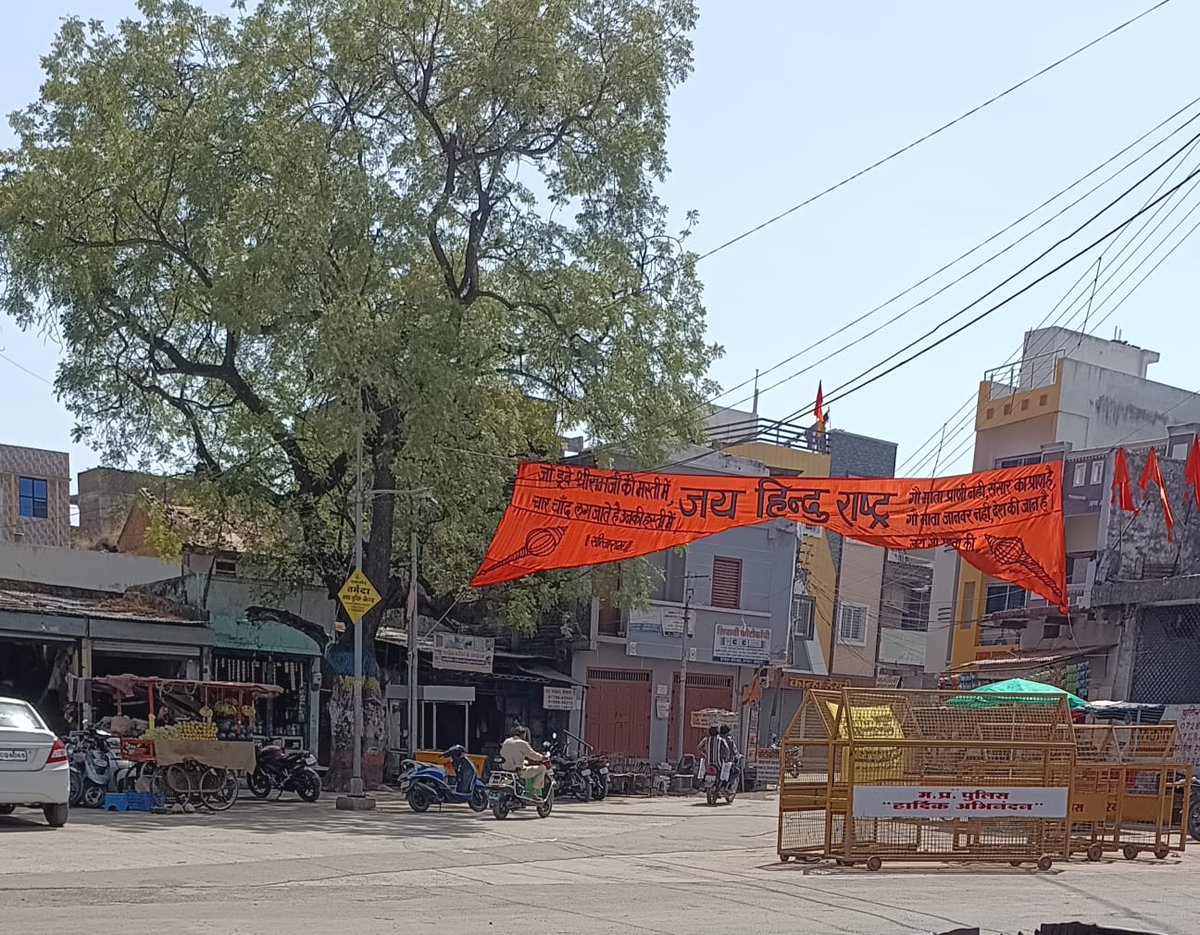 New Delhi, Mar 30 (KMS): Ahead of the Hindu festival of Ram Navami, tension is brewing in Indian state of Madhya Pradesh's Khargone city as saffron banners and posters with the words "Jai Hindu Rashtra" have been spotted in some areas. The development has caused concern and fear among the locals as they are apprehensive of the repeat of violent clashes that shook the city last year.
Adding to the already unsettled situation in the region, the appearance of such banners has the potential of vitiating the atmosphere further, reports reaching here said.
"Jai Hindu Rashtra" banners surfaced at four locations including Sarafa Bazar and Talab Chowk, major points where violence unfolded last year.
"Hindu Rashtra" refers to the concept of Hindu nationalism that advocates the establishment of India as a Hindu state. The term is controversial as it is associated with the exclusion of religious minorities and the erosion of India's secular traditions.
Residents of Khargone areas where such banners and posters have appeared are unnerved and are questioning the motive behind such a move.
"Such banners are unconstitutional and have been put up deliberately to provoke Muslims and create a fear psychosis among the minorities", a resident told media over the phone.
"Police administration is responsible if anything untoward happens once again", he said.
He said the city was yet to recover from the destruction caused by violence last year. "Some families are still struggling to establish themselves," he said.
Talab Chowk area was the epicenter of last year's violence that resulted in the death of Ibraish Khan. The administration arbitrarily blamed Muslims for instigating violence, clearly ignoring the brandishing of swords and provocative slogans being raised by Hindutva supporters participating in the Ram Navami procession. The clashes were followed by a strict curfew and the administration found the time convenient to demolish several Muslim homes and shops in the area.
Ravi Joshi, Khargone MLA, told media that the controversial banners have not been put up ahead of the festival. He said he has strictly instructed the administration to be more attentive and active during this year's Ram Navami celebrations.
"I had a meeting with the city's administration and we are trying our best that both communities celebrate their festivals – Ramadan and Ram Navami peacefully and we are taking appropriate measures in this regard", Joshi said.
"I've requested the administration that there should not be a repeat of 2022. The administration is keenly keeping an eye on every development in the city", he added.