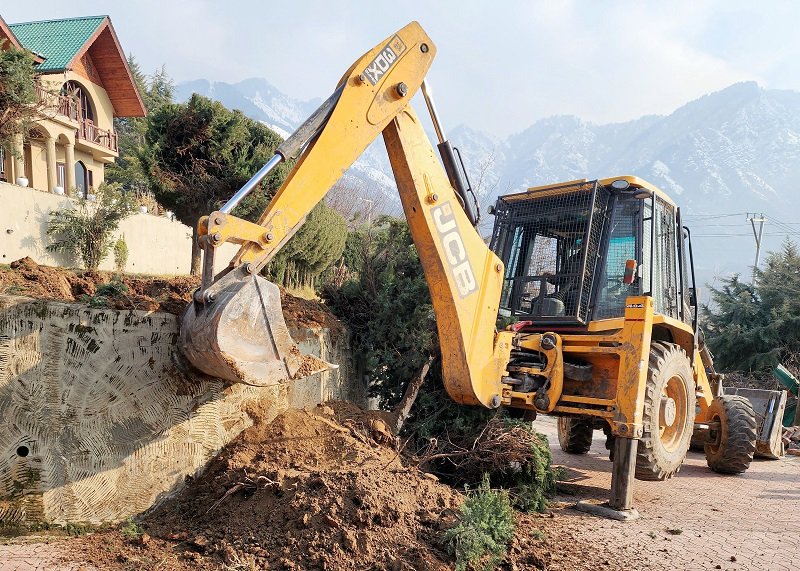 New Delhi, February 09 (KMS): The ongoing so-called anti-encroachment drive by the administration in Indian illegally occupied Jammu and Kashmir has snowballed into a major controversy, with opposition parties saying that the Modi-led Indian government is targeting the poor, and political opponents, making people homeless and snatching their livelihood, a Delhi-based media channel reported.
The massive bulldozer action across the occupied territory has triggered protests at several places, as the administration declared land cultivated and inhabited by people for generations as illegal encroachment. Even some arrests have been made by the authorities in Jammu in connection with protests against the authorities' drive.
Bulldozers are being used to demolish structures and homes across the occupied territory particularly in the Kashmir Valley and Muslim-majority areas of Jammu region. The opposition says bulldozers are being used on communal lines, NDTV reported.
The drive, which started in January, was supposedly meant to retrieve land allegedly encroached upon by many, including politicians and senior state officials, NDTV said, adding when the order set off an outcry, IIOJK Lieutenant Governor Manoj Sinha and officials of his administration said only the encroachments by the "high and mighty" will be targeted in the drive, but a mass eviction drive is being carried across the territory.
According to an order issued by the revenue department last month, all district collectors have been directed to retrieve state land, leased land, common use land, and also grazing land. Since then, a massive anti-encroachment drive is underway, thousands of acres of land has been snatched from locals, and numerous constructions demolished.
The drive has left thousands of families vulnerable, facing prospects of homelessness and livelihood challenges, the NDTV report concluded.