Seminar
Muslim Institute to organize national conference on Junagadh next week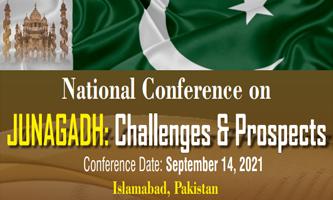 Islamabad, September 10 (KMS): Muslim Institute, an Islamabad-based think-tank, is going to organise a national conference on Junagadh on September 14 at the National Library in Islamabad.
The conference titled 'Junagadh — Challenges and Prospects' will be attended by historians, law experts, international relations' analysts from different universities and research institutions.
The keynote personalities, who will present their research and analysis on the subject include Dr Mujeeb Ahmad, Chairman, Department of History and Pakistan Studies, International Islamic University Islamabad, Ahmer Bilal Soofi, former Federal Minister for Law, President, Research Society of International Law (RSIL), Maj. Gen. Shahid Ahmad Hashmat (Retd), former High Commissioner to Sri Lanka, former Principal, Centre for International Peace and Stability, NUST, Afrasiab Mehdi Hashmi Qureshi, former Additional Foreign Secretary of Pakistan, General (Retd) Ehsan Ul Haq, former Chairman, Joint Chiefs of Staff Committee (JCSC) of Pakistan, Prof. Dr Muhammad Ali Shah, Vice Chancellor, Quaid-e-Azam University, Islamabad, Air Vice Marshal Faaiz Amir (Retd), former Vice Chancellor, Air University, Islamabad, Aizaz Ahmad Chaudhry, Director General, Institute of Strategic Studies, Islamabad, Sardar Masood Khan, former President, Azad Jammu and Kashmir, Ali Muhammad Khan, Minister of State, Ministry of Parliamentary Affairs and Sahibzada Muhammad Mehboob Sultan, Federal Minister, Ministry of States and Frontier Regions.
Through the conference, the Muslim Institute wants to draw attention towards the need of perpetual efforts on political, legal, diplomatic and academic fronts for legal and just resolution of the Junagadh State dispute. It has called upon the international community to support the case of Junagadh and condemn the violation committed by India.
The national conference on "Junagadh: Challenges & Prospects" is aimed at promoting an academic discourse on Junagadh at the national level while highlighting the history of the Junagadh Issue, recent developments on the issue, its status under international law, and the role of Junagadh community in Pakistan in a wider context. The conference is divided into 6 sessions – an inaugural session, four academic sessions, and a concluding session.